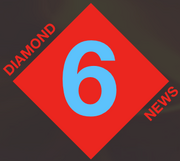 "Bad news, all the time."
―Slogan
Diamond 6 News is a news channel shown in Interface City and its surrounding metropolitan area.
This news channel is featured a lot in the game, shown mostly in cutscenes where James is watching TV. James can also tune in to this channel using the radio, and listen to several news broadcasts.
In ShatteredEdit
In Shattered, this is the dominant news channel shown. They cover the events that take place in Shattered.
Known reporters
Edit