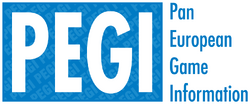 Pan European Game Information, or PEGI, is a company that rates video games based on their content, and determines what age groups the game is appropriate for. This system is used in European countries. Shattered was rated 16+ by this system, and Shattered 2 was rated 18+.
PEGI is a European video game content rating system established to help European consumers make informed decisions on buying computer games with logos on games' boxes. It was developed by the Interactive Software Federation of Europe (ISFE) and came into use in April 2003; it replaced many national age rating systems with a single European system. The PEGI system is now used in more than thirty countries.
Relations to Shattered
Edit
Originally rated 12+ for teens, the rating was changed for Shattered when curse words were found around the game, used as dialogue. Chris6dProductions admits they knew they were going to get the 16+ rating by adding this, but did it to enhance realism in the game. Shattered 2 was rated 18+.
See Also
Edit